| | |
| --- | --- |
| Dubai Tourism honours Al Safeer Congress Ambassadors for business event wins | |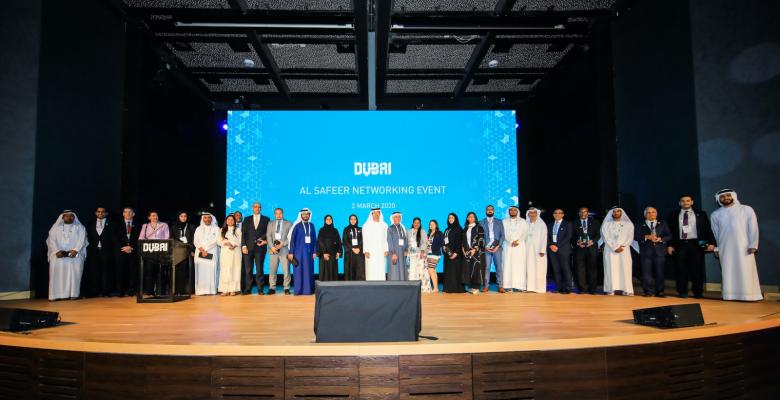 DUBAI, UNITED ARAB EMIRATES – Dubai Tourism has honoured its Al Safeer Congress Ambassadors, including doctors, scientists, industry experts, academics, business leaders and government officials from across the city, who have been leading the way in bidding for and winning major international conferences and congresses for Dubai and helping to define it as both a knowledge hub and a leading business events destination.
Dubai Business Events (DBE), the city's official convention bureau and a division of the Dubai Corporation for Tourism and Commerce Marketing, presented awards to 20 member organisations at the Programme's annual appreciation ceremony, held last week (2 March) at the newly opened JAFZA One Convention Centre in Jebel Ali. Over 100 ambassadors attended the event, with His Excellency Helal Saeed Almarri, Director General of Dubai Tourism, presenting the award winners with their trophies.
The Al Safeer Congress Ambassador Programme last year supported in securing 28 international association conferences that are to be hosted in Dubai over the coming years, set to attract over 16,500 industry-specific professionals and experts from around the world. This came amid 301 overall successful bids for meetings, conferences and incentives, set to bring over 150,000 delegates to Dubai over the coming years.
Since its establishment in 2010, the Programme has made a vital contribution to Dubai's growth as a business events destination, by the end of 2019 assisting in successfully bidding for 172 events with almost 219,000 delegates in attendance, amid a total of more than 1,200 bid wins for the city, bringing over 720,000 delegates.
His Excellency Helal Saeed Almarri, Director General, Dubai Tourism, said: "It is with great honour and pride that we congratulate and thank all our ambassadors for their commitment and efforts towards securing leading international business events for the city. The work undertaken by the Al Safeer Congress Ambassador Programme plays a pivotal role in Dubai's journey towards becoming a global knowledge hub, and the efforts of the ambassadors contribute significantly to this vision. As we continue to develop the programme, we welcome interest from potential ambassadors and look forward to collaborating with them to demonstrate the city's ability to host successful and impactful events. As we gear up for Expo 2020 Dubai, the city has a unique opportunity to showcase itself and convince more international associations and corporations to bring their events to Dubai, and our ambassadors will play a crucial role in achieving this."
Among the events won in 2019 thanks to the contributions of Ambassadors were: the 5th World Academic Congress of Emergency Medicine – WACEM 2019, the Space Generation Congress 2020, the Pacific Asia Conference on Information Systems 2020, the World Hospital Congress 2021, and the AIPPI World Intellectual Property Congress 2025.
In addition to the awards, last week's event also had an educational element, with Dubai Tourism providing a city update and a panel session with ambassadors discussing how hosting international conferences can contribute to the development of Dubai and the UAE's knowledge economy. Also among the guest speakers at the event was Shaun Vorster, Vice President of Strategy and Business Integration at Expo 2020 Dubai, who shared insights on the upcoming mega-event. Vorster outlined how business events and organisations can learn from and collaborate with Expo 2020 Dubai to deliver events with long-lasting social, innovation, and economic impact.
Issam Kazim, Chief Executive Officer of Dubai Corporation for Tourism and Commerce Marketing said: "The Al Safeer Programme is at the forefront of DBE's network as it allows industry-specific knowledge-sharing as well as access to expertise across various sectors. Through the programme, we continuously engage with and support our ambassadors, and as a result our bids for key industry events strengthen exponentially. As the programme continues to grow, we see more potential for ambassadors to exchange knowledge and learnings from previous bids as they continue to propel each other and attract more business events to Dubai."
Since being established in 2010, the Al Safeer Programme has grown to become a strong network of over 345 members to date, each of whom are industry experts in their field and are helping grow Dubai's position as a business platform that provides world-class infrastructure to support new industry discoveries and progression. In 2019, the programme was strengthened through the signing of several memorandums of understanding, with members joining from Dubai Health Authority, Dubai Courts, Hamdan Bin Rashid Al Maktoum Foundation for Distinguished Academic Performance, Sheikh Hamdan bin Rashid Award for Medical Sciences, Dubai Multi Commodities Centre (DMCC), the Professional Communication Corporation (Nedaa) and Dubai Sustainable City. The Al Safeer Congress Ambassadors community is set to further grow in 2020 as the Programme continues to target government entities, key universities and other organisations in Dubai to join and support in the city's success.
Translating to 'The Ambassador', the Al Safeer Programme was established by Dubai Business Events to engage with UAE-based key opinion leaders and government representatives, tapping into their expertise and professional networks to attract international business events to Dubai.
Dubai Health Authority was among the entities recognised at the appreciation ceremony, for its role in winning the World Hospital Congress 2021. Dr Muna AbdulRazzaq Tahlak, CEO of DHA's Latifa Women and Children Hospital, said: "Dubai is a global hub for tourism and also has the infrastructure for meetings and conference, and being part of the Al Safeer Congress Ambassador Programme has enabled us to present strong bids and showcase Dubai as the ideal destination for international associations to host their events in. It is an honour for us to be recognised for our contribution in winning events and showcasing Dubai as a hub for Science and Innovation. Working with Dubai Business Events has made the bidding process easy and their support has been invaluable. I encourage all entities to work and collaborate jointly to bring great events to Dubai."
IEEE UAE, a member of the Al Safeer Congress Ambassador Programme, was recognised for winning its bid to host the IEEE International Conference on Electronics, Circuits and Systems 2021. Dr. Fatma Taher, IEEE UAE Section Chair, said: "One of our objectives was to bid for an international conference and bring it to Dubai, so being part of the Al Safeer programme was of great help. We are proud to be part of the programme and appreciate the recognition for our work and efforts. I would encourage other associations and organisations to join the Al Safeer programme as it will aid them in their own work and help them to achieve their plans."
Organisations recognised and events won:
Zayed University: International Conference on Service Oriented Computing 2020
University of Dubai: 1st Electronic Resources and Libraries (ER&L) Middle East Chapter annual conference 2019
Mohammed bin Rashid Space Centre: Space Generation Congress 2020
Geospatial Week 2021: Ministry of Infrastructure Development
Arab Ministerial Forum for Housing and Urban Development 2019: ISARC-International Symposium on Automation & Robotics in Construction 2021
Emirates Neonatal & Pediatric Society: Regional Congress of The World Federation of Pediatric Intensive and Critical Care Societies 2019
Exeter Medical Center for Bone and Joint Health: Worldwide SRS Course 2020
Dubai Multi Commodities Centre Authority: Congress of the International Confederation of Jewellery, Silverware, Diamonds, Pearls and Stones 202
Hadef & Partners: AIJA Half-Year Conference 2020
University of Wollongong in Dubai: Pacific Asia Conference on Information Systems 2020
Emirates ENT Society: International Sialendoscopy Conference 2020
IEEE – UAE Section: IEEE Emerging Technologies Summit 2019
IEEE International Conference on Electronics, Circuits and Systems 2021: The Eastern Mediterranean Council of Optometry (EMCO)
EMCO Congress 2020: UAE Financial Markets Association
ACI Financial Markets World Congress 2020: Emirates Health Informatics Society: International Society for Telemedicine and e-Health International Conference 2021
Hamdan Bin Rashid Al Maktoum Foundation for Distinguished Academic Performance: World Conference for Gifted and Talented Children 2021
Dubai Health Authority: World Hospital Congress 2021
Emirates Urology Society: Asian Congress on Urology 2023
Emirates Society of Emergency Medicine: Asian Conference on Emergency Medicine 2025
International Association for the Protection of Intellectual Property AIPPI UAE & Emirates Intellectual Property Association: AIPPI World Intellectual Property Congress 2025
World Flower Council – UAE chapter: World Flower Council International Summit 2020
Dr. Mahaveer Mehta Medical Center: International Geriatric & Aesthetic Dermatology Conference 2021
Source: Travel Daily News